Bring PRESTIGE into your life.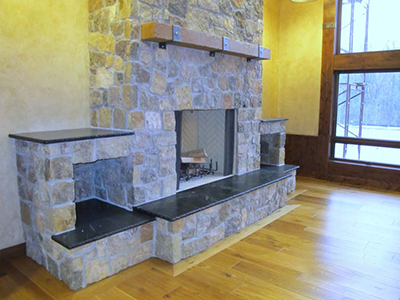 We are a full service fabricator specializing in all types of natural and engineered stone products. Conveniently located in the Crown Point industrial park, with over 65 years combined experience in the stone industry, we have the knowledge and expertise to help our customers make the right choices for their project by providing individual guidance and education through the selection and design process.
Our mission is not to just sell you a counter top, but rather to cultivate a relationship of trust through information and education that allows our clients to make a fully informed decision that fits both their budget and taste.
Developed after decades of experience in the stone industry, our exclusive Leather Finish offers an enriched textured look without compromising the integrity of the stone.
MORE STONE SEALER
Protect your investment with a hassle free, long-term solution for stain protection. Enjoy peace of mind knowing that you are covered by the MORE™ Infinity™ WARRANTY PROGRAM.
DIFFICULT ACCESS DELIVERY
We have the only delivery truck equipped with a 5 ton hydraulic knuckle boom crane. This allows us to easily reach up onto balconies, decks, and upper floor areas to deliver large tops in one piece that would require our competitors to make in two or more pieces in order to get it in the house.
TROUBLESHOOTING
If you have a question or concern regarding a project that we did not do, give us a call and we will be happy to try and solve it with you.
MONUMENT CONSTRUCTION & REPAIR
We have over 2 decades of experience in monument fabrication and repair. We can fix many things from simple chip repairs to complete face grinding and repolishing.
CUSTOM INTERIOR DESIGN
We have interior design professionals in our referral database that can help you on your project. And with over 65 years' combined experience in the natural stone industry, we can help you realize that special one-of-a-kind project.